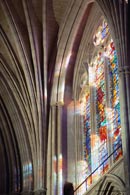 Our Order was founded inspired in the life and sanctity of St. Clare of Assisi and St. Francis of Assisi. Nearly 30 years ago, in the Philippines, with missionary Sisters who came from a Convent in Mexico City.

We invite you to search for your vocation; to consider that each and all of us has a special mission to accomplish to contribute in the building up the Kingdom of God. If you are a single catholic lady, we encourage you to pay attention to God's voice.

We invite you to become enter in a process of discernment by inquiring about our Vocation as Contemplative.